Blog
Critter Notices
Books from Critters!
Check out Books by Critters for books by your fellow Critterfolk, as well as my list of recommended books for writers.
How to Write SF
The Craft of Writing Science Fiction that Sells by Ben Bova, best-selling author and six-time Hugo Award winner for Best Editor. (This is one of the books your ol' Critter Captain learned from himself, and I highly recommend it.) (Also via Amazon)
New Book from a Critter Member
**NOW IN
PRINT EDITION
TOO!** Awesome new book,
HOW TO IMPROVE YOUR SPECULATIVE FICTION OPENINGS
, from a Critter member who's unearthed a shard of The Secret to becoming a pro writer. Really good piece of work. "...if you're at all concerned about story openings, you'd be nuts not to read what Qualkinbush has to say." —Wil McCarthy, author of BLOOM and THE COLLAPSIUM
Interviewed!
I was interviewed live on public radio for Critters' birthday, for those who want to listen.
Free Web Sites
Free web sites for authors (and others) are available at www.nyx.net.
ReAnimus Acquires Advent!
ReAnimus Press is pleased to announce the acquisition of the legendary Advent Publishers! Advent is now a subsidiary of ReAnimus Press, and we will continue to publish Advent's titles under the Advent name. Advent was founded in 1956 by Earl Kemp and others, and has published the likes of James Blish, Hal Clement, Robert Heinlein, Damon Knight, E.E. "Doc" Smith, and many others. Advent's high quality titles have won and been finalists for several Hugo Awards, such as The Encyclopedia of Science Fiction and Fantasy and Heinlein's Children. Watch this space for ebook and print editions of all of Advent's current titles!
Book Recommendation
THE SIGIL TRILOGY: The universe is dying from within... "Great stuff... Really enjoyed it." — SFWA Grandmaster Michael Moorcock
Announcing ReAnimus Press
If you're looking for great stuff to read from bestselling and award-winning authors—look no further! ReAnimus Press was founded by your very own Critter Captain. (And with a 12% Affiliate program.) [More]
~~~
FEATURED BOOK
~~~
Preditors & Editors Poll results
Official Results

Critique.org now has Workshops for Everything — all genres, music, video, photography, art, apps.....

Convert your work to ebooks! Read great ebooks! The votemaster runs ReAnimus Press
See also the Best-Ever Voters Poll for the best works ever written (not just in the last year)
---
Standings for Horror Novels
1. Losing Touch, Christian A. Larsen, Post Mortem Press, [link][comments]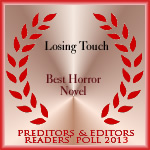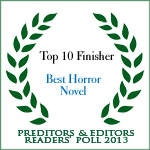 2. Haunting of Ingersull Penitentiary, Victoria Roder, Muse It Up Publishing, [link][comments]
3. The Black Land, MJ Wesolowski, Blood Bound Books, [link][comments]
4. Silent Fathoms, Tamara A. Lowery, Gypsy Shadow Publishing, [link][comments]
5. Demons, Dolls, & Milkshakes, Nelson W. Pyles, Post Mortem Press, [link][comments]
6. Shadow Lord, Tony-Paul de Vissage, Double Dragon Publishing, [link][comments]
7. Dying Days 3, Armand Rosamilia, Rymfire Books, [link][comments]
8. What Happens in the Darkness, Monica J. O'Rourke, Sinister Grin Press, [link][comments]
8. Vampire Therapy:Jackson and Eva, Shebat Legion, CHBB, [link]
9. Man in the Wall, Ben Larken, Gypsy Shadow Publishing, [link]
10. Dracula: In the Flesh, Tracey H. Kitts writing as T.K. Hardin, Amazon, [link]
10. The Melting Dead, Doug Lamoreux, Stylus-of-Iron, [link][comments]




11. Steel Rose, Barbara Custer, Eternal Press [comments]
11. Doctor Sleep, Stephen King, Simon & Schuster, [link][comments]
12. Waking Up Dead, Margo Bond Collins, Solstice Shadows, [link][comments]
12. Wolf Man, John Reinhard Dizon, Damnation Books, [link][comments]
12. House of Small Shadows, Adam Nevill, Pan Macmillan, [link][comments]
12. Habeas Corpse, Nikki Hopeman, Blood Bound Books, [link][comments]
12. The Wilde Passions of Dorian Gray, Mitzi Szereto, Cleis Press, [link]
13. Family Dinner, AMrx Scioneaux, Hazardous Press, [link]
13. Regina Puckett's Short Tales of Horror, Regina Puckett, Punk & Sissy Publications, [link]
13. Dark Recollections, Chris Philbrook, Independent, [link]
13. Ghoultown, October Weeks, Musa Publishing, [link]
13. Enter Night, Richard Schiver, Abiss Books, [link]
13. The Absence of Light, J. Daniel Stone, Villipede Publications, [link][comments]
14. Nettie and the Shepherd, Brick Marlin, Whiskey Creek Press, [link], [link][comments]
14. Fatal Submission, Nicole Austin, Ellora's Cave, [link]
14. Call of the Jersey Devil, Aurelio Voltaire, Spence City, [link][comments]
14. 13, Julie Elizabeth Powell, Julie Elizabeth Powell, [link]
14. Tearstone, David L. Day, Belfire Press, [link]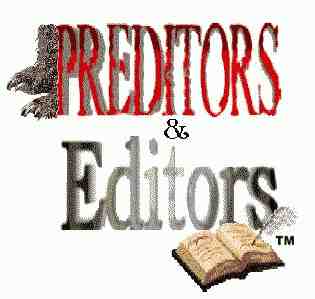 Drawing: Win a Free Kindle! - New drawing for January!