Blog
Critter Notices
Books from Critters!
Check out Books by Critters for books by your fellow Critterfolk, as well as my list of recommended books for writers.
Stayin' Alive
If you want to make a career of SF writing,
STAYING ALIVE - A WRITER'S GUIDE
by three-time SFWA President Norman Spinrad, published by your Critter Captain's
ReAnimus Press
, is an indispensable guide to the inside workings of the SF publishing industry by an expert.
The Sigil Trilogy
If you're looking for an amazing, WOW! science fiction story, check out
THE SIGIL TRILOGY
. This is — literally —
one of the best science fiction novels I've ever read.
Interviewed!
I was interviewed live on public radio for Critters' birthday, for those who want to listen.
Free Web Sites
Free web sites for authors (and others) are available at www.nyx.net.
ReAnimus Acquires Advent!
ReAnimus Press is pleased to announce the acquisition of the legendary Advent Publishers! Advent is now a subsidiary of ReAnimus Press, and we will continue to publish Advent's titles under the Advent name. Advent was founded in 1956 by Earl Kemp and others, and has published the likes of James Blish, Hal Clement, Robert Heinlein, Damon Knight, E.E. "Doc" Smith, and many others. Advent's high quality titles have won and been finalists for several Hugo Awards, such as The Encyclopedia of Science Fiction and Fantasy and Heinlein's Children. Watch this space for ebook and print editions of all of Advent's current titles!
Book Recommendation
THE SIGIL TRILOGY: The universe is dying from within... "Great stuff... Really enjoyed it." — SFWA Grandmaster Michael Moorcock
Announcing ReAnimus Press
If you're looking for great stuff to read from bestselling and award-winning authors—look no further! ReAnimus Press was founded by your very own Critter Captain. (And with a 12% Affiliate program.) [More]
~~~
FEATURED BOOK
~~~
Preditors & Editors Poll results
Official Results

Critique.org now has Workshops for Everything — all genres, music, video, photography, art, apps.....

Convert your work to ebooks! Read great ebooks! The votemaster runs ReAnimus Press
See also the Best-Ever Voters Poll for the best works ever written (not just in the last year)
---
Standings for All other Short Stories
1. Of Jasmine and Pomegranate, Mike Arsuaga, Boroughs Publishing Group, [link][comments]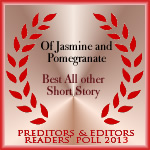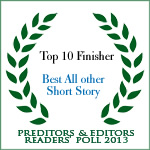 2. Zvonek 08 Feline Intelligence, Anne H Petzer, Gypsy Shadow Publishing, [link][comments]
3. Det. Lupèe: The Impossible Cases, James Secor, Chase Enterprises Publishing, [link][comments]
4. Lies and Paine, Cyrus Keith, MuseItUp Publishing, [link][comments]
5. What the Indian Saw, Teel James Glenn, Pro Se, [link]
6. The Midnight Zone, Elizabeth Delisi, Tirgearr Publishing, [link]
7. Love Potion #9.5, Kat Holmes, MuseItUp Publishing, [link]
7. Ritual, Salvatore Buttaci, All Things That Matter Press, [link][comments]
7. Love and Other Wounds, Jordan Harper, Out of the Gutter Online, [link]
8. A Christmas Accident, Melissa Keir, Secret Cravings Publishing, [link]
8. The Only Gifts We Give, Ian Florida, Every Day Fiction, [link]
8. Rags to Riches, Penny Estelle, MuseItUp, [link][comments]
9. Forbidden Destiny, Lia Michaels, Sassy Vixen Publishing LLC, [link]
10. The Winggirl, Whitley Weston, Secret Cravings Publishing, [link]
10. Daddy's Girls, Josie Coxx, Pole Publishing, [link]




11. Black Coffee, Jaye Watson, Uncial Press, [link]
11. The Catch, Robert Fanshaw, Steam eReads, [link]
11. Inigo Montoya, J.E. Seymour, Spinetingler, [link]
11. The Rules, Mark Troy, Ilium Books, [link]
12. the crimson outlaw, Alex Beecroft, Riptide, [link]
12. Young at Heart, Charmaine Gordon, Vanilla Heart Publishing, [link][comments]
12. Secrets, Charlie Cochrane, Elm Books, [link]
12. Love Under the Hood, Las Vegas, NV 1957, Jeanne Lyet Gassman, The Museum of Americana: A Literary Review, [link][comments]
12. Heart As Big As The Door, Jéanpaul Ferro, Green Briar Review, [link]
12. Making a Mark, Megan Slayer, Resplendence Publishing, [link]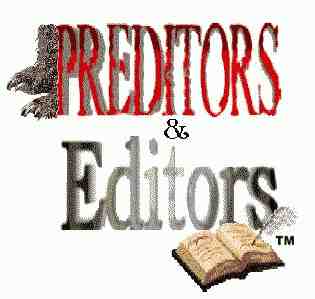 Drawing: Win a Free Kindle! - New drawing for January!