Blog
Critter Notices
Books from Critters!
Check out Books by Critters for books by your fellow Critterfolk, as well as my list of recommended books for writers.
Space Travel for SF Writers
Hot off the presses from ReAnimus Press! Space Travel - A Science Fiction Writer's Guide— An indispensible tool for all SF writers that explains the science you need to help you make your fiction plausible. (Also via Amazon)
A Guide to Barsoom
The ultimate, definitive
GUIDE TO BARSOOM from ReAnimus Press.
NOW IN PRINT EDITION TOO. The best guide to Edgar Rice Burroughs' Mars series.
Interviewed!
I was interviewed live on public radio for Critters' birthday, for those who want to listen.
Free Web Sites
Free web sites for authors (and others) are available at www.nyx.net.
ReAnimus Acquires Advent!
ReAnimus Press is pleased to announce the acquisition of the legendary Advent Publishers! Advent is now a subsidiary of ReAnimus Press, and we will continue to publish Advent's titles under the Advent name. Advent was founded in 1956 by Earl Kemp and others, and has published the likes of James Blish, Hal Clement, Robert Heinlein, Damon Knight, E.E. "Doc" Smith, and many others. Advent's high quality titles have won and been finalists for several Hugo Awards, such as The Encyclopedia of Science Fiction and Fantasy and Heinlein's Children. Watch this space for ebook and print editions of all of Advent's current titles!
Book Recommendation
THE SIGIL TRILOGY: The universe is dying from within... "Great stuff... Really enjoyed it." — SFWA Grandmaster Michael Moorcock
Announcing ReAnimus Press
If you're looking for great stuff to read from bestselling and award-winning authors—look no further! ReAnimus Press was founded by your very own Critter Captain. (And with a 12% Affiliate program.) [More]
~~~
FEATURED BOOK
~~~
Preditors & Editors Poll results
(New votes may not appear immediately; database updates run at least once an hour. Note that results are not official until after the poll closes, reported errors have been attended to, and anti-ballot-stuffing software has been run.)
▶ Help your favorite win! - Share on Facebook - Tweet on Twitter
See also the Best-Ever Voters Poll for the best works ever written (not just in the last year)

Convert your work to ebooks and read great ebooks! The votemaster runs ReAnimus Press

Critique.org now has Workshops for Everything — all genres, music, video, photography, art, apps.....
---
Standings for category: Thriller Novels
1. No Third Choice, A.J. Kohler, Solstice Publishing, [link] [comments]
2. Itsy Bitsy Spider, Kimberly Shursen, Createspace, [link] [comments]
3. soundbyte, Cat Connor, rebel e publishers, [link] [comments]
4. Critical Mass, Cyrus Keith, MuseItUp, [link] [comments]
5. Manchurian Shadows, Teel James Glenn, Booksforabuck.com, [link] [comments]
6. Seeker, Kat Holmes, MuseItUp Publishing, [link]
7. Waking Up Dead, Margo Bond Collins, Solstice Shadows, [link] [comments]
8. The Tower of Sarah, Ben Patrick Eden, Gypsy Shadow Publishing, [link]
9. Gemini's War, Amy McCorkle, Blackwyrm, [link]




10. Malevolent Gateway, Dawn Gray, Anchor Group, [link] [comments]
11. Blind Sight, Marc Douglas, ASJ Publishing, [link]
12. Markheim - Sound and Fury, Carrie Lynn Barker, Damnation Books, http:/[link]
12. Pump Fake, Michael Beck, Uncial Press, [link] [comments]
12. Scent of a Killer, Adelle Laudan, Amazon, [link]
12. Dangerous Desire, Annie Seaton, Entangled Publishing, [link]
12. EQUITY of FEAR, Rudy A. Mazzocchi, Twilight Times Books, [link]
13. The Rapist, Les Edgerton, New Pulp Press, [link]
14. All For A Blast of Hot Air, R. Ann Siracusa, Breathless Press, [link]
14. Raven Lenore;The Case of the Gypsy Curse, Joe Vadalma, Renaissance Ebooks, [link]
14. Stone Cold, Jenny Hilborne, Severn Press, [link]
14. Sendoff for a Snitch, KM Rockwood, Musa Publishing, [link]
14. Eternal Fall, Saruel, Belfire Press, [link]

---
Congratulations to all entrants!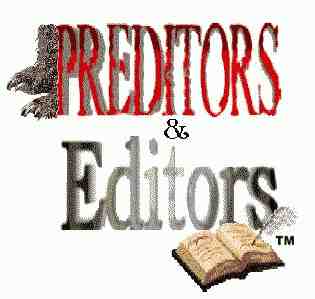 Drawing: Win a Free Kindle! - New drawing for January!