Captain's Blog
Critter Notices
How to Write SF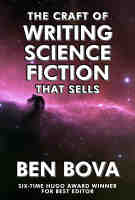 The Craft of Writing Science Fiction that Sells by Ben Bova, best-selling author and six-time Hugo Award winner for Best Editor. (This is one of the books your ol' Critter Captain learned from himself, and I highly recommend it.) (Also via Amazon)
Critters Server is Dying has been Replaced
See important details here in my blog. Let me know if you find anything that isn't working right. (Manuscripts are now available for this week, FYI.)
Book Recommendation
THE SIGIL TRILOGY: The universe is dying from within... "Great stuff... Really enjoyed it." — SFWA Grandmaster Michael Moorcock
Announcing ReAnimus Press
If you need help making ebooks from manuscripts or print copies—or finding great stuff to read—look no further! An ebook publisher started by your very own Critter Captain. (And with a 12% Affiliate program.) [More]
~~~
FEATURED BOOK
~~~
error_reporting (E_ALL ^ E_NOTICE); if (!$name) { $name="Critters"; $textonly=1; } ?> if (!$newspage) include("/home/httpd/html/users/critters/notices.inc") ?>
The Critters Library
Critiquing References

Here are some articles on how to critique...

Our Newsgroups

Critters enjoy the use of two newsgroups on the SFF.Net server; one group for serious writing/critiquing/workshopping questions, the other for anything and everything.

Writing Resources

Various links with other writing-related information...

Other Workshops

Market Info

Where to submit and how long you'll end up waiting...

Be sure to note how up-to-date any given list is — conditions change rapidly (markets die, etc.).

Other References

Some research links of possible interest to SF/F/H writers...

Help!

Help keep this list current! If you hit on a link that's dead, please report it. Please be specific in which link it is, since many sound alike. It would also help if you could mention what error you received — did it "time out" or give a "DNS error", or did it come up with a page specifically saying "URL not found". Thanks!

Note that they may still exist at another URL, so if you're really interested in one, look up the name via your favorite search engine.
error_reporting (E_ALL ^ E_NOTICE); ?>